IG Index Account Setup
In order to use the Add-in with IG Index you first need to enter your IG Index account details.
Please note, for security reasons, passwords are stored encrypted in the registry on your machine. Your username and password are only used to logon to IG Index and it is transmitted securely via HTTPS.

1. Select the "Configuration Pane" from the Add-in toolbar in Excel:

2. Then select the "IG Index" and "Account Setup" tab: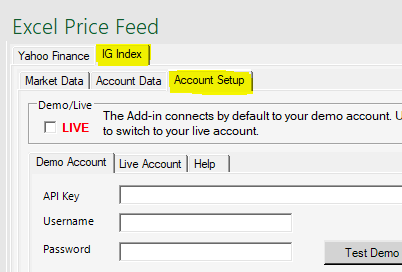 3. It is recommended that you use an IG Demo account first whilst you familiarise yourself with the Add-in. Please visit the IG Index website to create an API Key and Demo account username/password.
Select the "Settings" tab at the top, then "API Keys" from the menu on the left, then the "Demo Accounts" tab: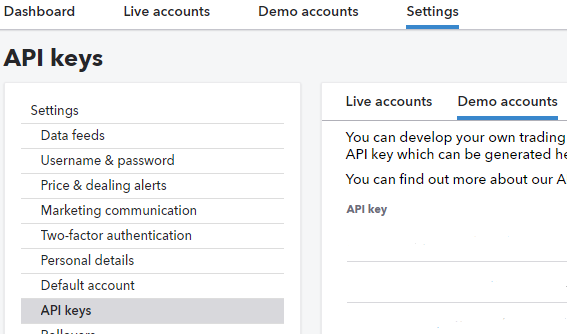 and create an API Key: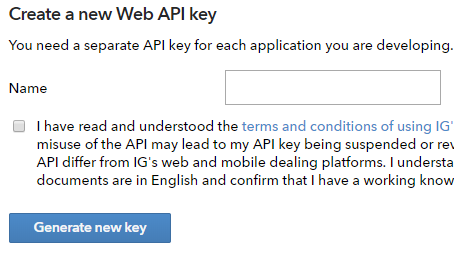 If you have not done so previously set the login details for your demo account. Please note your demo account uses a different username and password to your live account: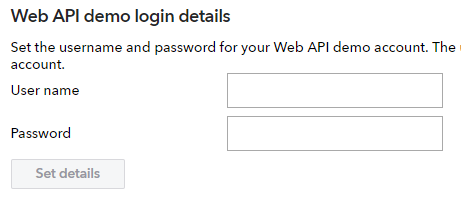 4. Next, enter these details (username, password and API key) into the Add-in.
5. You can test the connection by pressing the "Test Demo Connection" button. A screen will then show if the connection to IG Index succeeded or failed: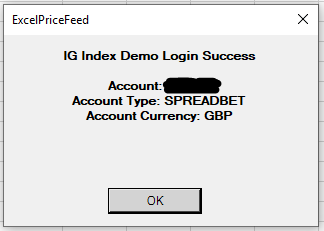 6. At any point you can switch accounts, for example you may want to switch from using a Spread Bet account to a CFD account.

To do this first press the "Refresh Account List" button, this will populate the list with the accounts you have (either demo or live depending on the selected tab).

You will see which account is set to be the "preferred" account, select another account and press the "Switch Account" button. You will then see the list update to reflect the new preferred account.

7. When you are comfortable with the operation of the Add-in you may switch to using your live IG Index account. Use the setting below to toggle between the Add-in using your live or demo account:

When using a live account, you need to enter a Live API Key and your live username and password into the Live Account tab on the Account Setup screen in the Add-in.